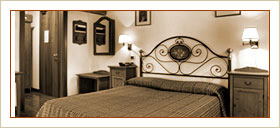 Rooms
After the restructuring we obtained 13 autonomous and confortable rooms: 2 triple rooms, 7 double rooms an 4 single's.
The Inn and The Tavern
In the part of the building not yet restored there are the inn and tavern, which mantain a traditional Venetian cuisine.
History
Our hotel is situeted in Romanziol, in a building once belonging to noble Venetian's Da Mula's family.